We are organising a hack day for 23rd of January. This is targeted at hackers with an interest in mapping, as well as planners and of course cycle campaigners. The idea to this event developed after Dr Robin Lovelace's talk on the CycleNation Conference we hosted in October. Please find more details over on eventbrite, where you can also book a free ticket. A brief summary below:
The National Propensity To Cycle Tool comes to Liverpool. We will work with the main developer Dr Robin Lovelace to make this tool available to planners and cycle advocates in Liverpool, for Liverpool.
The event will be of equal interest to open source hackers with an interest in GIS, mapping, open data and statistics; highway engineers and decision makers involved in the planning of cycle infrastructure; people who move through the city by bike and who want to see more and better cycle provisions on the routes they use.as well as businesses with a reliance on good cycle provisions throughout their operational area (couriers, cycle hire, cycle training, tour operators) .
The aim for the day is to have the propensity tool working for our city and be able to visualise where people are cycling now, and where they want to cycle, for various scenarios with an increase in the number of trips made by bicycle. We will be able to see in form of heatmaps where cycle infrastructure would be most needed. Planners and cycle advocates will be able to understand the inputs and how to use the tool.
Hall Lane is in Sefton, Merseyside and this route links Hall Road and the coast, Gormleys Iron Men, to Little Crosby and beyond in both directions, it used to be a dirt track bridleway but has been resurfaced and widened, a nice handy little route.

Liverpool City Council has a proposal for a temporary cycle route on West Derby Road, to replace the one previously removed.Closing date for comments Friday 7th January 2022https://liverpool.gov.uk/wdrcycling The consultation is badly designed, with only the options of either agreeing with the plan or disagreeing with it. The design for crossing Sheil Road creates dangerous…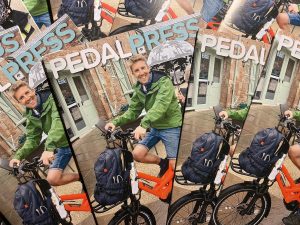 The December issue of Pedal Press is now available in print and PDF formats.Download PDF here.For a print version, email pedalpress@merseycycle.org.uk
Don't want to miss a story?
Sign up to our newsletter today