A brilliant documentary on BBC2 about the production of this incredible machine. The programme is part of the Inside the Factory series and, like all the other episodes, is made with a good humoured outlook, high production values and covers a wide range of related topics.
Apart from manufacturing the bike the programme looks at the history of the folding bicycle, improving HGV safety, advice from Team GB on improving utility cycling efficiency, the role of the bicycle in promoting equality for women, a visit to the Brooks saddle factory and new cycle designs.
Definitely worth a look.
http://www.bbc.co.uk/iplayer/episode/b07pmyd6/inside-the-factory-series-2-4-bicycles
Hall Lane is in Sefton, Merseyside and this route links Hall Road and the coast, Gormleys Iron Men, to Little Crosby and beyond in both directions, it used to be a dirt track bridleway but has been resurfaced and widened, a nice handy little route.

Liverpool City Council has a proposal for a temporary cycle route on West Derby Road, to replace the one previously removed.Closing date for comments Friday 7th January 2022https://liverpool.gov.uk/wdrcycling The consultation is badly designed, with only the options of either agreeing with the plan or disagreeing with it. The design for crossing Sheil Road creates dangerous…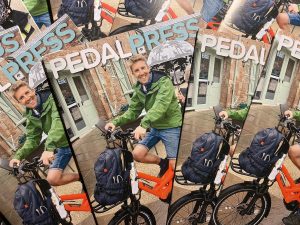 The December issue of Pedal Press is now available in print and PDF formats.Download PDF here.For a print version, email pedalpress@merseycycle.org.uk
Don't want to miss a story?
Sign up to our newsletter today