• Do you care about people, planet and the future?
• Do you want to hold our decision makers and big corporations to account, and ask them to create the change our climate desperately needs?
• Do you want our fossil-fuel guzzling transport system to be reformed?
• Can you cycle a few miles?
If so, lets get the powerful message of climate action and people power to the critical decision makers at COP26. Join the #ride2COP26, a movement of individuals travelling to COP26 purely powered by ourselves and our trusty two-wheeled-steeds.
Rain of shine (you really can't trust the Great British weather!) the ride will be full of colour and joy as individuals come together to create collective change and climate action.
One mile or 50, anyone is welcome to join the movement as we wind our way towards Glasgow in the weeks leading up to COP26 (31st Oct-12th November 2021). Think of it like a 'tag team' – people joining the ride for a few miles as it passes their area!
https://httpspeoplepeddlepower.wordpress.com/
Members of MCC will join the ride at Warrington, riding onwards to Lancaster. For information contact Don Thompson theroost95@btinternet.com
Hall Lane is in Sefton, Merseyside and this route links Hall Road and the coast, Gormleys Iron Men, to Little Crosby and beyond in both directions, it used to be a dirt track bridleway but has been resurfaced and widened, a nice handy little route.

Liverpool City Council has a proposal for a temporary cycle route on West Derby Road, to replace the one previously removed.Closing date for comments Friday 7th January 2022https://liverpool.gov.uk/wdrcycling The consultation is badly designed, with only the options of either agreeing with the plan or disagreeing with it. The design for crossing Sheil Road creates dangerous…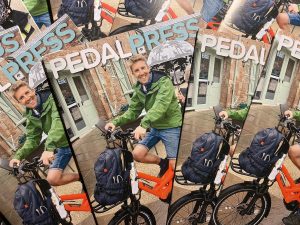 The December issue of Pedal Press is now available in print and PDF formats.Download PDF here.For a print version, email pedalpress@merseycycle.org.uk
Don't want to miss a story?
Sign up to our newsletter today