Great Pedal Away Festival on Sunday 22 September.
Cycling Projects is a North West based charity with a national network making cycling accessible to everyone. Its Wheels for All programme supports disabled people by providing a range of adapted cycles at regular sessions and its Pedal Away programme brings people together to deliver health and social benefits.
The annual Great Pedal Away festival takes place on Sunday 22nd September 2019 at Aintree Racecourse. This year the event will be bigger and better than previous years; there is a 40+ Mile Challenge for regular cyclists and fundraisers, a 17+ Mile 'Light' ride, an under 8s ride, a family social ride, a Wheels for All disability cycling session, ditch your stabilisers workshop and a Step Out for Stroke Walk.
Register at participant.co.uk/GPA19
Free self-led family ride gpa19.eventbrite.co.uk
Hall Lane is in Sefton, Merseyside and this route links Hall Road and the coast, Gormleys Iron Men, to Little Crosby and beyond in both directions, it used to be a dirt track bridleway but has been resurfaced and widened, a nice handy little route.

Liverpool City Council has a proposal for a temporary cycle route on West Derby Road, to replace the one previously removed.Closing date for comments Friday 7th January 2022https://liverpool.gov.uk/wdrcycling The consultation is badly designed, with only the options of either agreeing with the plan or disagreeing with it. The design for crossing Sheil Road creates dangerous…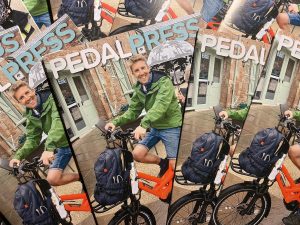 The December issue of Pedal Press is now available in print and PDF formats.Download PDF here.For a print version, email pedalpress@merseycycle.org.uk
Don't want to miss a story?
Sign up to our newsletter today