Draft plans are still being displayed in the Kuumba Imani Millenium Centre, 4 Princes Rd, Liverpool L8 1TH, with further consultation events being planned at Granby Market, etc.  Plans should be on the Better Roads website soon, but as yet are not there.
In the meantime, below are some photos of the draft plans.  Main issues/questions identified at present are:
Access on and off the central Boulevard section in both directions:

Safety and viewpoints (for both people walking and cycling)?
Possible for non-standard cycles ? (obligation required under the Equality Act (2010))
Priority to cyclists (and pedestrians)?
Will time delays/phaff at toucan crossings be too much? (as stated in Sustrans design guidance, cycle design criteria needs to be direct with minimal detours or delays)

Connections to other places/junctions/cycle network: access from/to side roads?
Connections to Upper Parliament Street: a 1.5m cycle lane (just a painted line on-road) is proposed:
Chichane adjacent to Selbourne Street and access to central Boulevard:

How to slow traffic at this point (to be safer for all road users)?
How to protect people cycling on road or on proposed cycle track?
How to safely access central Boulevard?

Central Boulevard: space constrictions/viewpoints around sub-stations?
Please send all comments to Transportation@liverpool.gov.uk and please copy MCC (Merseysidecyclingcampaign@hotmail.co.uk) in so that we can also represent your views!
MCC are also meeting up with the designers on Tuesday, so any comments before then would be great!
Hall Lane is in Sefton, Merseyside and this route links Hall Road and the coast, Gormleys Iron Men, to Little Crosby and beyond in both directions, it used to be a dirt track bridleway but has been resurfaced and widened, a nice handy little route.

Liverpool City Council has a proposal for a temporary cycle route on West Derby Road, to replace the one previously removed.Closing date for comments Friday 7th January 2022https://liverpool.gov.uk/wdrcycling The consultation is badly designed, with only the options of either agreeing with the plan or disagreeing with it. The design for crossing Sheil Road creates dangerous…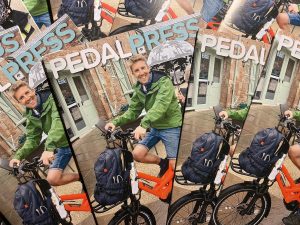 The December issue of Pedal Press is now available in print and PDF formats.Download PDF here.For a print version, email pedalpress@merseycycle.org.uk
Don't want to miss a story?
Sign up to our newsletter today