Don't forget our AGM – All welcome!:
Merseyside Cycling Campaign AGM – A chance to discuss any issues and plan for 2019!
Saturday 1st December 2018 – 10am for 10.30am
DoES, 1 The Tapestry, 68 – 76 Kempston St, Liverpool L3 8HL
A change of time and venue in November.
CORRECTION! – CORRECTION! – CORRECTION!
Monday 19 November 2018 – 17.4518:00 then you are welcome to stay for the Cycling UK meeting starting at 18.15 followed by a talk by Paul Mountford (Road Stafety Merseyside)
CORRECTION! – CORRECTION! – CORRECTION!
The venue for the Cycling UK AGM is Quaker Meeting House, 22 School Lane, Liverpool L1 3BT and NOT as previously advertised here!
Please pass this information on to anybody you know and is intending to come, and please accept our apologies for this late correction. We still hope to have a quick MCC meeting before the CUK event, meet at the Quaker Meeting House.
DoES, 1 The Tapestry, 68 – 76 Kempston St, Liverpool L3 8HL
Liverpool City Council Cycle Forum
Wednesday 19  December 2018 – 17.30 – 18.45
Merseytravel Offices, 2 Mann Island, L3 1BP in room GA – 25
Hall Lane is in Sefton, Merseyside and this route links Hall Road and the coast, Gormleys Iron Men, to Little Crosby and beyond in both directions, it used to be a dirt track bridleway but has been resurfaced and widened, a nice handy little route.

Liverpool City Council has a proposal for a temporary cycle route on West Derby Road, to replace the one previously removed.Closing date for comments Friday 7th January 2022https://liverpool.gov.uk/wdrcycling The consultation is badly designed, with only the options of either agreeing with the plan or disagreeing with it. The design for crossing Sheil Road creates dangerous…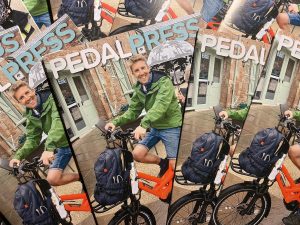 The December issue of Pedal Press is now available in print and PDF formats.Download PDF here.For a print version, email pedalpress@merseycycle.org.uk
Don't want to miss a story?
Sign up to our newsletter today