Draft Comments on Draft Liverpool Local Plan for Merseyside Cycling Campaign
Liverpool City Region Combined Authority emerging Local Cycling and Walking Infrastructure Plan (LCWIP) and existing Rights of Way Improvement Plan 2018-2028.
• The LCWIP is mentioned in Policy TP1 and TP5 which we should support along with LCR Transport Strategy for Growth and LCR Local Journeys Strategy.
• There is no mention anywhere of the LCR Rights of Way Improvement Plan.
• Section 2 Planning Context should also refer to the emerging Liverpool City Region Local Cycling and Wallking Infrastructure Plan and the LCR Rights of Way Improvement Plan.
• Paragraph 14.1 the introduction to the chapter on Sustainable Transport should mention the LCR LCWIP and the LCR Rights of Way Improvement Plan and the economic, health, social and environmental benefits of cycling and walking such as reduced congestion, cleaner air, reduced absenteeism, reduced healthcare costs etc.
• Para 2.12 on the Liverpool City Region Local Transport Plan for Growth should explicitly mention that plan's promotion of cycling and walking in some way
• Policy TP2 Transport Assessments Part 3. states that "Development proposals will only be permitted where:… ….d. The proposal makes provision for walking, cycling and the use of public transport;" This seems good and should be supported
• Policy TP5 Cycling requires development to demonstrate a positive impact on cycling etc. Including undertaking cycle audits "to ensure that local roads are safe, attractive and comfortable for all cyclists". Seems a pretty robust policy.
• The policy should also cover upgrading the cycle network off-site such as by improving nearby cycle paths or junctions etc. And that identification of such off-site improvements should be included in cycle -audits.
There is a consultation open day at Central Library Thursday 1st March 11am – 7pm
Public consultation for this document finishes at midnight on the 9 March 2018
Document can be found here
Hall Lane is in Sefton, Merseyside and this route links Hall Road and the coast, Gormleys Iron Men, to Little Crosby and beyond in both directions, it used to be a dirt track bridleway but has been resurfaced and widened, a nice handy little route.

Liverpool City Council has a proposal for a temporary cycle route on West Derby Road, to replace the one previously removed.Closing date for comments Friday 7th January 2022https://liverpool.gov.uk/wdrcycling The consultation is badly designed, with only the options of either agreeing with the plan or disagreeing with it. The design for crossing Sheil Road creates dangerous…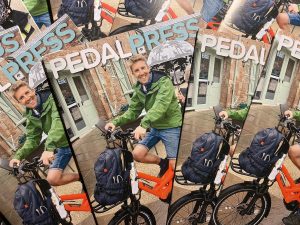 The December issue of Pedal Press is now available in print and PDF formats.Download PDF here.For a print version, email pedalpress@merseycycle.org.uk
Don't want to miss a story?
Sign up to our newsletter today