Hall Lane is in Sefton, Merseyside and this route links Hall Road and the coast, Gormleys Iron Men, to Little Crosby and beyond in both directions, it used to be a dirt track bridleway but has been resurfaced and widened, a nice handy little route.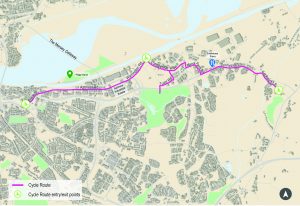 Liverpool Pop-up cycle lanesThe proposed routes are:Route 4 – East Lancs Road – City CentreRoute 5 – East Prescot Road – City CentreRoute 6 – (University Route): Gateacre – City CentreRoute 7 – Liverpool Loop South: Hale – City Centre https://liverpool.gov.uk/cyclingconsultationClosing date 24th March 2021. Halton Runcorn to Daresbury Cycle Routehttps://consultprojectcentre.co.uk/cyclehaltonClosing date 4th April 2021.An…
Transition Liverpool CIC (Community Interest Company) is part of the Transition Network and strives to bring communities within the Liverpool City Region (LCR) together through green projects. Having recently become a CIC our priority is to help support diverse communities across the LCR to make the necessary changes within their personal and civic lives to…
Hello pedalling people. It's about time I put some thoughts on paper for you tireless campaigners in these dystopian times. The role of Active Travel Commissioner couldn't have been stranger since the outbreak of Covid. Talk about a rollercoaster!!! Where to start?At the beginning of 2020 I went on a field trip with academics from…
Don't want to miss a story?
Sign up to our newsletter today