It is important that we let our councillors know what our concerns are, where we think they should focus their efforts and so on. Of course there might also be situations where we want to give positive feedback.
We've created a page to quickly find contact details for your local councillor, for any ward within the Liverpool City Region, all based on your postcode. If any of your councillors are on twitter and we have found them there, we will also give you a link to their twitter page.
Some councillors are quite active on social media like twitter, and it is a great way to contact them and encourage a response to your query or comment that is immediately publicized.
Please check it out on our "Find Your Councillor" page.
COMMUNITY EVENTSATURDAY 30 JULYNOON–8PMLocated next to Chaffers' running track, near the Glenwyllin Road entrance to the park. Rimrose Valley Friends have organised music, food and entertainment on the day.Merseyside Cycling Campaign is keen to have a stall at this free-to-enter event. We are looking for volunteers who can spare a few hours between 11am and 8pm…
St Helens Borough Council is currently seeking views on early-stage plans for two new routes – deadline 12th August 2022:   • Jubits Lane, between Sutton Manor and A57 Warrington Road. Extending routes installed in 2020, when completed this route would provide connectivity between St Helens, Marshall's Cross, Sutton Manor, and Widnes.    • Lea Green to Whiston, extending…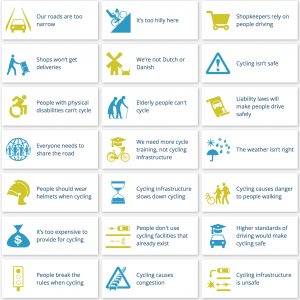 The Cycling Fallacies website collates all the facts and arguments about cycling for transport. If you're a cycle campaigner, you'll probably have come up against the same old arguments time and time again. There are many myths about cycling, which are widespread and often believed, without any basis in fact. This website is designed to…
Don't want to miss a story?
Sign up to our newsletter today