The local elections are on the 2nd May, below is a downloadable letter you can send to prospective candidates to promote the Made to Move campaign in your area.
We all have the right to travel safely but when it comes to walking or cycling on Merseyside roads you or your child are more likely to be killed or injured than in any other area in the country.  In addition to this, traffic, a major cause of air pollution, is killing 725 people per year in the region.  It also causes ill health, linked to heart disease, stroke and cancer as well as asthma and other respiratory illness.   The Made to Move Merseyside campaign, aims to challenge the current political administration to adopt a 15 point plan and truly commit to transform the region for those living within it.
There is also a petition you can sign and encourage your local councillors and MPs to sign: https://www.change.org/p/1000-made-to-move-merseyside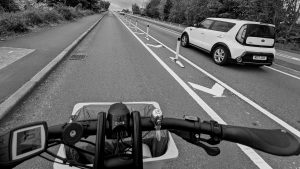 Saturday 18 June 2022 – 9.30amWell… Wirral Council recently completed a fantastic new cycle route on Fender Lane. We want to say 'thank you' so we're planning a group ride to show them that we mean it.Local riders young and old are welcome to join the fun. Please gather from 9.30am. At 10am we will…
New video from Simon O'Brien
A new up-to-date cycle map is now available for Knowsley to help you plan safe cycling routes throughout the borough https://orlo.uk/PgTIP
Don't want to miss a story?
Sign up to our newsletter today