We are having a table at the "Share The Road" event held at the University today. If you come and decide to join our campaign, there might be a little present in it for you, who knows.
Details from the organisers:
Share the Road Event – Thursday 1 October 11.30-2pm
Bring yourself and your bike along to the Guild Walk, University of Liverpool (between Peach Street car park and Mountford Hall)
Get on an Arriva bus and see things from the driver's perspective
Have a free bike health check from our Dr Bikes
Find out about citybike and our current student discount offers
Pick up lots of freebies and information on road safety, bike security and cycling in Liverpool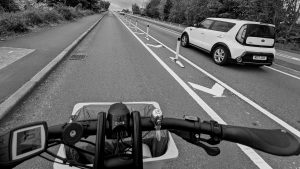 Saturday 18 June 2022 – 9.30amWell… Wirral Council recently completed a fantastic new cycle route on Fender Lane. We want to say 'thank you' so we're planning a group ride to show them that we mean it.Local riders young and old are welcome to join the fun. Please gather from 9.30am. At 10am we will…
New video from Simon O'Brien
A new up-to-date cycle map is now available for Knowsley to help you plan safe cycling routes throughout the borough https://orlo.uk/PgTIP
Don't want to miss a story?
Sign up to our newsletter today