Public consultation event in The Box at FACT, 88 Wood St, Liverpool L1 4DQ, on Monday 19th March 2018 from 2pm to 8pm.
Approximate start: January 2019
Approximate end: November 2019
The Ropewalks STEP Scheme will be split into two phases:
Phase 1 – Bold Street and Seel Street.
Phase 2 – Wood Street, Fleet Street, Slater Street, Colquitt Street.
Funding of £4.5m has been secured for Phase 1 which is part of Liverpool City Region's Sustainable Transport Enhancement Package (STEP). Growth Deals has provided £3m funding.
As part of the proposals there are opportunities to improve the area including:
The pedestrianisation of the full length of Bold Street.
The introduction of a café culture to the area.
Upgrading the footway and carriageway.
Installing new and improved seating and lighting.
Planting new trees.
Improving safety for pedestrians and cyclists.
Reversing the one-way traffic system on Seel Street, running from Gradwell Street to Berry Street.
Closing Seel Street between Colquitt Street and Slater Street at night time.
It is anticipated that our proposals will reduce the amount of traffic collisions, improve the connections to and around this area of Liverpool, and support and help attract future investment.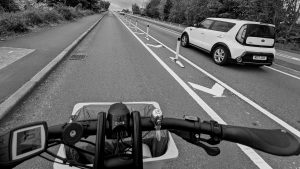 Saturday 18 June 2022 – 9.30amWell… Wirral Council recently completed a fantastic new cycle route on Fender Lane. We want to say 'thank you' so we're planning a group ride to show them that we mean it.Local riders young and old are welcome to join the fun. Please gather from 9.30am. At 10am we will…
New video from Simon O'Brien
A new up-to-date cycle map is now available for Knowsley to help you plan safe cycling routes throughout the borough https://orlo.uk/PgTIP
Don't want to miss a story?
Sign up to our newsletter today