Liverpool City Council identified two initial cycle routes, forming an arc from Sefton Park to West Derby Road. This list was later expanded to seven routes, shown on the map. In the town centre, they announced Bold Street and Castle Street would be pedestrianised.
Despite an initial delay caused by a nationwide demand for plastic bollards, the first two cycle routes were in place by June. On returning to Liverpool in July, I took my first ride along the route. I was impressed by the feeling of safety along West Derby Road, as well as the satisfaction of cruising past a line of cars stuck at the lights. Subsequent improvements have included the 'floating' of car parking to protect the lane, and accommodating two lanes for traffic eastbound – whilst keeping the cycle track. However a more fundamental issue of providing no safe route to the city centre remains, which must be holding back ridership.
The construction of the third route in Liverpool started in September between the city centre and Bootle. Starting from Hatton Garden, the route runs along Vauxhall Road, Commercial Road and Stanley road as far as the border with Sefton Council. A later extension down Dale Street to the crossing of Byrom Street created a 2.4-mile route of new and upgraded cycle tracks. Together with the Regent/Dock road cycle track, the cycle network in north Liverpool is starting to emerge.
As the hot summer of 2020 moved into the autumn, councils across the country began removing pop-up cycle infrastructure, notably the hugely popular Sunrise Cycleway along the coast near Newcastle-upon-Tyne. However, Liverpool has remained supportive of cycling throughout, retaining and improving its pop-up infrastructure – not giving in to a small but vocal opposition. The transformation of Bold Street and Castle Street looks likely to stay permanent after being widely praised.
For many reasons 2020 was a year to forget, however for cycling it will go down in history as a year of great progress. Nationwide bike shops ran out of stock due to huge demand for new bicycles, with levels of cycling increasing by over 200% during the first lockdown. In Liverpool, thousands of journeys have been made on the pop-up cycle lanes, even if we do not have the 100km network promised originally, three routes are a good start. Other milestones in Liverpool last year were the completion of the Princes Avenue cycleway, the start of roadworks on The Strand and Lime Street (which include excellent cycle provision), and the rolling out of electric city hire bikes. With all this good news, 2021 will surely be another great year for walking and cycling in Liverpool.
Phillip Marshall
See more at Philip's blog https://liverpoolcyclist.wordpress.com/
COMMUNITY EVENTSATURDAY 30 JULYNOON–8PMLocated next to Chaffers' running track, near the Glenwyllin Road entrance to the park. Rimrose Valley Friends have organised music, food and entertainment on the day.Merseyside Cycling Campaign is keen to have a stall at this free-to-enter event. We are looking for volunteers who can spare a few hours between 11am and 8pm…
St Helens Borough Council is currently seeking views on early-stage plans for two new routes – deadline 12th August 2022:   • Jubits Lane, between Sutton Manor and A57 Warrington Road. Extending routes installed in 2020, when completed this route would provide connectivity between St Helens, Marshall's Cross, Sutton Manor, and Widnes.    • Lea Green to Whiston, extending…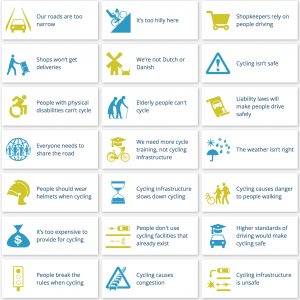 The Cycling Fallacies website collates all the facts and arguments about cycling for transport. If you're a cycle campaigner, you'll probably have come up against the same old arguments time and time again. There are many myths about cycling, which are widespread and often believed, without any basis in fact. This website is designed to…
Don't want to miss a story?
Sign up to our newsletter today