We now accept payments or donations to the cycling campaign via a simple online bank transfer using GoCardless.com. This is a safe and convenient way to support the campaign.
Unlike commonly used online donation systems like for example PayPal GoCardless.com expects you to type in your sort code and account number instead of a credit or debit card number. The payment is not instant and uses a one-off authorised direct debit transfer but saving us the higher card payment fees. Don't worry, we will not be able to take further donations from you without your authorisation. Please consult GoCardless.com for further details.
Please find the donation button on the Membership page or use the button to the right.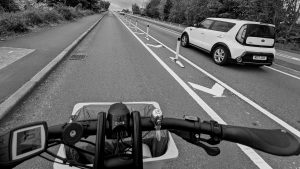 Saturday 18 June 2022 – 9.30amWell… Wirral Council recently completed a fantastic new cycle route on Fender Lane. We want to say 'thank you' so we're planning a group ride to show them that we mean it.Local riders young and old are welcome to join the fun. Please gather from 9.30am. At 10am we will…
New video from Simon O'Brien
A new up-to-date cycle map is now available for Knowsley to help you plan safe cycling routes throughout the borough https://orlo.uk/PgTIP
Don't want to miss a story?
Sign up to our newsletter today