Wednesday 3rd January 2018 – 6pm
A meeting to agree actions/targets/objectives for 2018. The Action Plan should build on MCC's vision statement. The venue is DoES Liverpool, which is on Hanover Street and only a short walk from Liverpool Central railway station. DoES Liverpool, Gostins Bldg, 4th Floor, Hanover St, Liverpool L1 4LN
The Action Plan development table is downloadable below. The way it works is to use each of the objectives as prompts to see what actions we can take (in the column 'Possible Approach') as well as looking at what evidence and relevant documents there are.
MCC Action Plan Development Table Landscape A3 with Communications Strategy Column added
MCC Action Plan Development Table Landscape A4 with Communications Strategy Column added
———————————-
Merseyside Cycling Campaign January Meeting
Monday 15th January – 6pm
Baltic Fleet, 33A Wapping, Liverpool L1 8DQ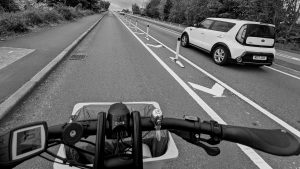 Saturday 18 June 2022 – 9.30amWell… Wirral Council recently completed a fantastic new cycle route on Fender Lane. We want to say 'thank you' so we're planning a group ride to show them that we mean it.Local riders young and old are welcome to join the fun. Please gather from 9.30am. At 10am we will…
New video from Simon O'Brien
A new up-to-date cycle map is now available for Knowsley to help you plan safe cycling routes throughout the borough https://orlo.uk/PgTIP
Don't want to miss a story?
Sign up to our newsletter today