Barry's Mobile Bicycle Maintenance, 07738 114243 [phone to book, priority to key workers]
Bernard Bicycles. 260 Smithdown Road, L15 5AH 9.30 – 5.00
https://www.facebook.com/BernardBicycles/
The Bicycle Lounge, 46 – 48 Moor Street, Ormskirk L39 2AQ
info@thebicyclelounge.co.uk 01695 577 240
Bikeology, Smithdown Road 0151 7338799 10.00 – 4.00
Bikes & Boards, 170 Banks Rd, West Kirby CH48 0RH. 0151 625 5533
The Bike Shop Moreton, 453 Hoylake Road, Moreton, Wirral CH46 6DQ 01516060101
Birkenhead Cycles (re-opening 1st June) 258 Conway St, Birkenhead CH41 4AH. 0151 647 9966
birkenheadcycles.co.uk
Bromilow Cycle Shop, 13/15 North Road, St. Helens 01744 23018 9.30 – 4.00 Mon – Fri, 9.30 – 12.00 Sat
Cheshire Cycles, Warrington Call Mike 01925 594633 9.00 – 6.00 [drop off bikes for all work]
Coast Cycles, Aigburth Road 01514270003 9.30 – 5.00
College Cycles 177 College Rd, L23 3AT 01519240689 9.15 – 5.00
Cycle Republic 9.00 – 6.00
Cycleworld Upton 146 Ford Road, Upton, Wirral CH49 0TQ – 07749 759134
Giant, Parliament Street 0151 7076116, info@giant-liverpool.co.uk 10.00 – 6.00
Halfords Croft Retail Park, Bromborough, Wirral CH62 3PN – 0151 343 3180
Halfords Junction 1 Retail Park, Bidston Moss, Wallasey, Wirral, CH44 2HE – 0151 630 4216
Hightown Cycle Repairs, 07806 784917, hightowncycles@virginmedia.com
HYPE Urban Bike Centre Campbeltown Road, Birkenhead CH41 9HP
07793753527 www.hypeurbanbikes.co.uk
John Geddes Cycles, Prescot & Widnes Branches 10.00 – 4.00 [NHS Prioity]
Kcycles, 1186 New Chester Rd, Eastham 07835120078 10.00 – 2.00 Mon – Sat [NHS priority]
Little T Room 50 Grange Road West, Birkenhead CH41 4DA
07793753527 www.hypeurbanbikes.co.uk
MeCycle 59 Station Road, Ainsdale, PR8 3HH 01704 579353
Oban Cycle County Road 0151 2636332 [ring to check]
Off the Rock Cycles, 223 Seaview Road, Wallasey CH45 4PD
07515 730 550 / 0151 345 8358
adam@offtherockcycles.co.uk offtherockcycles.co.uk
Peloton Liverpool 07380111226, logistics@peloton.coop [Repairs and refurbished bikes, NHS priority]
Picton Cycles, Picton Road, Liverpool 10.00 – 4.00 [closed Sunday]
Quinns, Edge Lane 01512286262 9.30 – 5.00
Thatto Cycle, Thatto Heath, St Helens 10.00 – 3.00 [ring door bell]
Tracs (Wirral Country Park and Neston Community Centre) Bike repairs – currently collection only – 0151 319 2455
Rimmer's Cycles, Prescot [ring to check]
Used Bicycles UK, Woolton Village 07736 461857
The Wheelbase 584 Old Chester Rd, Rock Ferry, Birkenhead, CH42 4NW 0151 644 9682
If you know of any other cycle shops open for business during these challenging times please email Pedal Press at pedalpress@merseycycle.org.uk
More address info on our bike shops page.
You can also follow a list of Bike Shops open for business compiled by the Association of Cycle Traders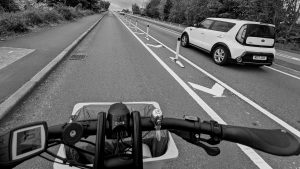 Saturday 18 June 2022 – 9.30amWell… Wirral Council recently completed a fantastic new cycle route on Fender Lane. We want to say 'thank you' so we're planning a group ride to show them that we mean it.Local riders young and old are welcome to join the fun. Please gather from 9.30am. At 10am we will…
New video from Simon O'Brien
A new up-to-date cycle map is now available for Knowsley to help you plan safe cycling routes throughout the borough https://orlo.uk/PgTIP
Don't want to miss a story?
Sign up to our newsletter today