We ran a stall in Princes Park on Sunday 7th September with great success, during the Sky Ride and before the official start of the Tour of Britain 2014, with lots of people on bikes diverting into the park. Lots of new members signed up, numbers soon to be announced here. In the meantime, check out these pictures:
If anybody can name the two racers on the last image, please add this to the comments.
Edit: The two riders have been identified as No 73, Michel Golas of Omega Pharma Quickstep and No 55, Andreas Stauff of MTN-Qhubeka.
And here some more pics: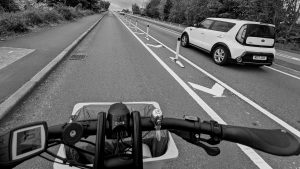 Saturday 18 June 2022 – 9.30amWell… Wirral Council recently completed a fantastic new cycle route on Fender Lane. We want to say 'thank you' so we're planning a group ride to show them that we mean it.Local riders young and old are welcome to join the fun. Please gather from 9.30am. At 10am we will…
New video from Simon O'Brien
A new up-to-date cycle map is now available for Knowsley to help you plan safe cycling routes throughout the borough https://orlo.uk/PgTIP
Don't want to miss a story?
Sign up to our newsletter today