We all have the right to travel safely but when it comes to walking or cycling on Merseyside roads you or your child are more likely to be killed or injured than in any other area in the country. In addition to this, traffic, a major cause of air pollution, is killing 725 people per year in the region. It also causes ill health, linked to heart disease, stroke and cancer as well as asthma and other respiratory illness.
On Thursday 25th April (7pm-9pm), we will be launching the Made to Move Merseyside campaign, this will challenge the current political administration to adopt a 15 point plan and truly commit to transform the region for those living within it.  The evening will consist of talks with short films giving an overview of how dangerous it is our roads, the impact a poor road environment has and how we can begin to change this.
We need to build our roads around people, communities and the desire to live without fear of harm or poor health. Based upon Manchester's proposal to create a £1.8 billion infrastructure plan, Made to Move Merseyside presents an alternative to the current policies causing the loss of so many innocent lives.
Thursday 25th April
7pm-9pm
Smithdown Social
2a Crawford Avenue
L18 1DR Liverpool

There is also a petition you can sign and encourage your local councillors and MP to sign: https://www.change.org/p/1000-made-to-move-merseyside
COMMUNITY EVENTSATURDAY 30 JULYNOON–8PMLocated next to Chaffers' running track, near the Glenwyllin Road entrance to the park. Rimrose Valley Friends have organised music, food and entertainment on the day.Merseyside Cycling Campaign is keen to have a stall at this free-to-enter event. We are looking for volunteers who can spare a few hours between 11am and 8pm…
St Helens Borough Council is currently seeking views on early-stage plans for two new routes – deadline 12th August 2022:   • Jubits Lane, between Sutton Manor and A57 Warrington Road. Extending routes installed in 2020, when completed this route would provide connectivity between St Helens, Marshall's Cross, Sutton Manor, and Widnes.    • Lea Green to Whiston, extending…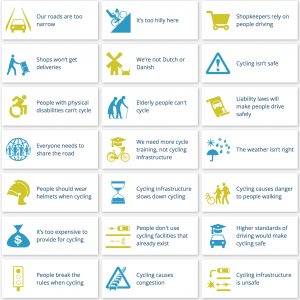 The Cycling Fallacies website collates all the facts and arguments about cycling for transport. If you're a cycle campaigner, you'll probably have come up against the same old arguments time and time again. There are many myths about cycling, which are widespread and often believed, without any basis in fact. This website is designed to…
Don't want to miss a story?
Sign up to our newsletter today