We are organising a hack day for 23rd of January. This is targeted at hackers with an interest in mapping, as well as planners and of course cycle campaigners. The idea to this event developed after Dr Robin Lovelace's talk on the CycleNation Conference we hosted in October. Please find more details over on eventbrite, where you can also book a free ticket. A brief summary below:
The National Propensity To Cycle Tool comes to Liverpool. We will work with the main developer Dr Robin Lovelace to make this tool available to planners and cycle advocates in Liverpool, for Liverpool.
The event will be of equal interest to open source hackers with an interest in GIS, mapping, open data and statistics; highway engineers and decision makers involved in the planning of cycle infrastructure; people who move through the city by bike and who want to see more and better cycle provisions on the routes they use.as well as businesses with a reliance on good cycle provisions throughout their operational area (couriers, cycle hire, cycle training, tour operators) .
The aim for the day is to have the propensity tool working for our city and be able to visualise where people are cycling now, and where they want to cycle, for various scenarios with an increase in the number of trips made by bicycle. We will be able to see in form of heatmaps where cycle infrastructure would be most needed. Planners and cycle advocates will be able to understand the inputs and how to use the tool.
COMMUNITY EVENTSATURDAY 30 JULYNOON–8PMLocated next to Chaffers' running track, near the Glenwyllin Road entrance to the park. Rimrose Valley Friends have organised music, food and entertainment on the day.Merseyside Cycling Campaign is keen to have a stall at this free-to-enter event. We are looking for volunteers who can spare a few hours between 11am and 8pm…
St Helens Borough Council is currently seeking views on early-stage plans for two new routes – deadline 12th August 2022:   • Jubits Lane, between Sutton Manor and A57 Warrington Road. Extending routes installed in 2020, when completed this route would provide connectivity between St Helens, Marshall's Cross, Sutton Manor, and Widnes.    • Lea Green to Whiston, extending…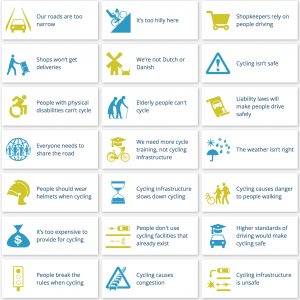 The Cycling Fallacies website collates all the facts and arguments about cycling for transport. If you're a cycle campaigner, you'll probably have come up against the same old arguments time and time again. There are many myths about cycling, which are widespread and often believed, without any basis in fact. This website is designed to…
Don't want to miss a story?
Sign up to our newsletter today