Draft Comments on Draft Liverpool Local Plan for Merseyside Cycling Campaign
Liverpool City Region Combined Authority emerging Local Cycling and Walking Infrastructure Plan (LCWIP) and existing Rights of Way Improvement Plan 2018-2028.
• The LCWIP is mentioned in Policy TP1 and TP5 which we should support along with LCR Transport Strategy for Growth and LCR Local Journeys Strategy.
• There is no mention anywhere of the LCR Rights of Way Improvement Plan.
• Section 2 Planning Context should also refer to the emerging Liverpool City Region Local Cycling and Wallking Infrastructure Plan and the LCR Rights of Way Improvement Plan.
• Paragraph 14.1 the introduction to the chapter on Sustainable Transport should mention the LCR LCWIP and the LCR Rights of Way Improvement Plan and the economic, health, social and environmental benefits of cycling and walking such as reduced congestion, cleaner air, reduced absenteeism, reduced healthcare costs etc.
• Para 2.12 on the Liverpool City Region Local Transport Plan for Growth should explicitly mention that plan's promotion of cycling and walking in some way
• Policy TP2 Transport Assessments Part 3. states that "Development proposals will only be permitted where:… ….d. The proposal makes provision for walking, cycling and the use of public transport;" This seems good and should be supported
• Policy TP5 Cycling requires development to demonstrate a positive impact on cycling etc. Including undertaking cycle audits "to ensure that local roads are safe, attractive and comfortable for all cyclists". Seems a pretty robust policy.
• The policy should also cover upgrading the cycle network off-site such as by improving nearby cycle paths or junctions etc. And that identification of such off-site improvements should be included in cycle -audits.
There is a consultation open day at Central Library Thursday 1st March 11am – 7pm
Public consultation for this document finishes at midnight on the 9 March 2018
Document can be found here
COMMUNITY EVENTSATURDAY 30 JULYNOON–8PMLocated next to Chaffers' running track, near the Glenwyllin Road entrance to the park. Rimrose Valley Friends have organised music, food and entertainment on the day.Merseyside Cycling Campaign is keen to have a stall at this free-to-enter event. We are looking for volunteers who can spare a few hours between 11am and 8pm…
St Helens Borough Council is currently seeking views on early-stage plans for two new routes – deadline 12th August 2022:   • Jubits Lane, between Sutton Manor and A57 Warrington Road. Extending routes installed in 2020, when completed this route would provide connectivity between St Helens, Marshall's Cross, Sutton Manor, and Widnes.    • Lea Green to Whiston, extending…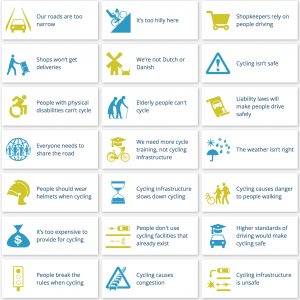 The Cycling Fallacies website collates all the facts and arguments about cycling for transport. If you're a cycle campaigner, you'll probably have come up against the same old arguments time and time again. There are many myths about cycling, which are widespread and often believed, without any basis in fact. This website is designed to…
Don't want to miss a story?
Sign up to our newsletter today