Lime Street plans (Adelphi end and St Georges Hall end), which are part of Liverpool City Centre Connectivity scheme, were on show at Central Library on Wednesday, 12 December from 10am to 6pm.  Comments (by email or questionnaire) need to be returned to oliver.brown@amey.co.uk in early January (January 11th as amended from January 4th on Better roads website although the planning committee date is 8th January – so best to do early!)  The Better Roads website confusingly also has original plans that include the cycle track still present, but comments are required on the new plans (as linked above).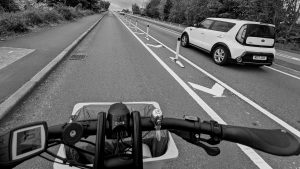 Saturday 18 June 2022 – 9.30amWell… Wirral Council recently completed a fantastic new cycle route on Fender Lane. We want to say 'thank you' so we're planning a group ride to show them that we mean it.Local riders young and old are welcome to join the fun. Please gather from 9.30am. At 10am we will…
New video from Simon O'Brien
A new up-to-date cycle map is now available for Knowsley to help you plan safe cycling routes throughout the borough https://orlo.uk/PgTIP
Don't want to miss a story?
Sign up to our newsletter today