In 2020, new trains will be introduced on to the Merseyrail network. Merseyrail says they will be state-of-the-art, safer, more reliable, and thanks to faster acceleration, journey times will be reduced. A sliding step level with the platform will improve access for people with bikes, pushchairs or wheelchairs.
Merseyrail is inviting cyclists to a briefing session about the new trains, there will be an opportunity to ask questions.
The session will take place on Wednesday 31st May, 12 noon at Merseytravel, Mann Island, PO Box 1976, Liverpool, L69 3HN. It will be hosted by David Powell, new trains programme director for Merseytravel and David O'Leary, commercial director from Merseyrail.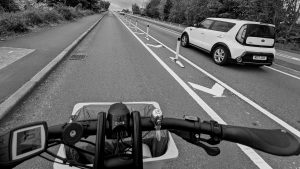 Saturday 18 June 2022 – 9.30amWell… Wirral Council recently completed a fantastic new cycle route on Fender Lane. We want to say 'thank you' so we're planning a group ride to show them that we mean it.Local riders young and old are welcome to join the fun. Please gather from 9.30am. At 10am we will…
New video from Simon O'Brien
A new up-to-date cycle map is now available for Knowsley to help you plan safe cycling routes throughout the borough https://orlo.uk/PgTIP
Don't want to miss a story?
Sign up to our newsletter today