Merseyside Cycling Campaign Monthly Meeting
Monday 17 February – 6pm
Fodder Canteen, 65a Norfolk Street, Liverpool L1 0BE
Liverpool City Council Active Travel Forum
Thursday 20 February – 5pm
Alder Hey Children's NHS Trust, Eaton Rd, Liverpool L12 2AP
Riverside Drive Protest
Thursday 27 February – 3.30pm
At the pelican crossing  point on Riverside Drive between Priory Wood and the entrance to Festival Gardens
Liverpool City Council has announced it is working on a £45 million project, prioritising car travel in South Liverpool.
This ignores the climate emergency, air pollution and  pedestrian and cyclist safety.
The plan is to make Riverside Drive and Jericho Lane a dual carriageway.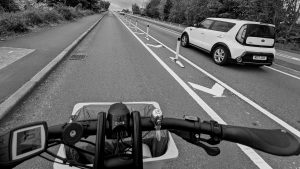 Saturday 18 June 2022 – 9.30amWell… Wirral Council recently completed a fantastic new cycle route on Fender Lane. We want to say 'thank you' so we're planning a group ride to show them that we mean it.Local riders young and old are welcome to join the fun. Please gather from 9.30am. At 10am we will…
New video from Simon O'Brien
A new up-to-date cycle map is now available for Knowsley to help you plan safe cycling routes throughout the borough https://orlo.uk/PgTIP
Don't want to miss a story?
Sign up to our newsletter today