Our submission to the Liverpool City Council sustainability commission, including references.
Please click the link below for a PDF file. (This is version 8)
The references are:
References
1. BBC website; News England: http://www.highwaysmagazine.co.uk/local-roads-too-dangerous-to-cycle-on-poll-suggests-20140703 and http://www.bbc.co.uk/news/uk-england-28093374 (Accessed 3rd July 2014).
2. Hillman M, Adams J, Whitelegg J.  In: One False Move. ISBN 0 85374 494 7
3. Wikipedia website: List of Preventable Causes of Death. http://en.wikipedia.org/wiki/List_of_preventable_causes_of_death  (Accesed 17th June 2014).
4. McCarthy M.   The benefit of seatbelt legislation in the United Kingdom. Journal of Epidemiology and Community Health, 1989, 43, 218-222
5. Travel independent website. http://www.travelindependent.org.uk/ (Accessed 17th June 2014).
6. Sustrans website; Health and Active Travel: http://www.sustrans.org.uk/policy-evidence/related-academic-research/health-and-active-travel  (Accessed 03/07/14).
7. UK Government, Department of Health website: http://webarchive.nationalarchives.gov.uk/+/www.dh.gov.uk/en/Publichealth/Healthimprovement/Obesity/DH_079713  (Accessed 03/07/14)
8. Jacobsen,PL; Racioppi,F; Rutter,H (2009) Who owns the roads? How motorised traffic discourages walking and bicycling, Injury Prevention, v15, pp369-373.
9. BBC website: Cyclist killer Gary McCourt: Crown loses appeal against 'lenient' sentence.  http://www.bbc.co.uk/news/uk-scotland-edinburgh-east-fife-24240127  (Accessed 17th June 2014).
10. The Jewish Chronicle Online: Mr Loophole defends rabbi death claim.  http://www.thejc.com/news/uk-news/119731/mr-loophole-defends-rabbi-death-claim (Accessed 17th June 2014).
11. Public Health England website: http://www.hpa.org.uk/webc/HPAwebFile/HPAweb_C/1317141074607  (accessed 30/04/14)
12. Lindsay G, MacMillan A. Moving urban trips from cars to bicycles: impact on health and emissions.  Australian and New Zealand Journal of Public Health. Feb 2011; Vol 35 (1) 54-60.
13. Bristol Local Government Website; City Council Cabinet minutes:
https://www.bristol.gov.uk/committee/2012/ua/ua000/0726_7.pdf  (Accessed 03/07/14).
14. Merseyside Local Transport Plan website; LTP3:   http://www.letstravelwise.org/content206_Local-Transport-Plan-3.html   (Accessed 03/07/14)
15. Whitelegg J, Haq G.  Vision Zero: Adopting a Target of Zero for Road Traffic Fatalities and Serious Injuries (2006), for the Stockholm Environment Institute, produced under a contract with the Department for Transport. http://sei-international.org/mediamanager/documents/Publications/Future/vision_zero_FinalReportMarch06.pdf
16. Vision Zero Merseyside; pdf document. www.wirralpedestrians.org.uk/files/vision_zero_merseyside.pdf   (Accessed 17th June 2014).
17. Hong Kong Road Safety Council website;  http://www.roadsafety.gov.hk/en/campaign/campaign20140502.html   (Accessed 03/07/14)
18. CTC website; Space for Cycling: www.ctc.org.uk/spaceforcycling. (Accessed 03/07/14).
COMMUNITY EVENTSATURDAY 30 JULYNOON–8PMLocated next to Chaffers' running track, near the Glenwyllin Road entrance to the park. Rimrose Valley Friends have organised music, food and entertainment on the day.Merseyside Cycling Campaign is keen to have a stall at this free-to-enter event. We are looking for volunteers who can spare a few hours between 11am and 8pm…
St Helens Borough Council is currently seeking views on early-stage plans for two new routes – deadline 12th August 2022:   • Jubits Lane, between Sutton Manor and A57 Warrington Road. Extending routes installed in 2020, when completed this route would provide connectivity between St Helens, Marshall's Cross, Sutton Manor, and Widnes.    • Lea Green to Whiston, extending…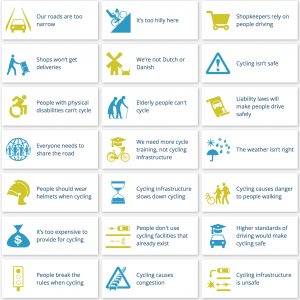 The Cycling Fallacies website collates all the facts and arguments about cycling for transport. If you're a cycle campaigner, you'll probably have come up against the same old arguments time and time again. There are many myths about cycling, which are widespread and often believed, without any basis in fact. This website is designed to…
Don't want to miss a story?
Sign up to our newsletter today