CTC and CycleNation Autumn  Conference
Save the date: 24th-25th October 2015
Return to Liverpool and join us for the weekend. Be it for discussion or debate on where & how cycling moves forward in 2016.
Merseyside Cycling Campaign will be host for the CycleNation and CTC autumn conference this year (2015). Cyclenation is a federation of local cycle campaign groups and there to help local groups campaign and to represent them at the national and international level; CTC is the national cycling charity and has championed the cause of cycling for well over a century.
The venue will be Blackburne House, right in heart of the world-renowned Georgian Quarter of Liverpool, for directions follow this link.
We will publish more details (how to book, agenda, social events and rides) here in due course.
The actual conference will be from noon to 6pm on Saturday 24 Oct, at Blackburne House
If you arrive before Saturday, we are planning social drinks on Friday evening, time and venue tbc. There may be a Cyclenation EGM on Saturday morning (TBC) and there will be a meal and social evening on the Saturday evening. We also plan rides for the Sunday.
Please preregister from the CTC website using this link.
Closer to the date we will email you a confirmation of this pre-registration plus information on how to pay the attendance fee.
Proposed Schedule:
09:00-12:00
12:00-13:00
13:00-18:00
18:00-late
Saturday 24th
CycleNation EGM
Lunch Break
CycleNation Conference
Social event
Sunday 25th
Rides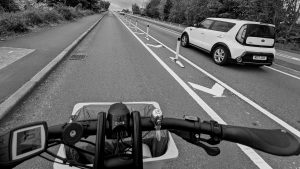 Saturday 18 June 2022 – 9.30amWell… Wirral Council recently completed a fantastic new cycle route on Fender Lane. We want to say 'thank you' so we're planning a group ride to show them that we mean it.Local riders young and old are welcome to join the fun. Please gather from 9.30am. At 10am we will…
New video from Simon O'Brien
A new up-to-date cycle map is now available for Knowsley to help you plan safe cycling routes throughout the borough https://orlo.uk/PgTIP
Don't want to miss a story?
Sign up to our newsletter today