Wednesday 29 May 2019 – 14.00 to 18.30
DoES Liverpool, 1st Floor, The Tapestry, 68-76 Kempston Street, Liverpool L3 8HL
Liverpool City Council cycling and walking officer, Jayne Rodgers, is hoping to develop an Aspirational Cycling Map for the city that 'maps' a connected network of routes that local people use to travel around on their bikes. There is already a body of work that has been conducted by Simon O'Brien, the new LCC cycling champion, that identifies a network of routes to connect the greenspaces and highlights some potential low traffic and green corridors. The idea is to overlay Simon's routes with the existing map data, the corridors identified in the LCWIP propensity to cycle tool exercise and your ideas for connections. 
Map tables will be set out at the event so that people can drop in and tell Jayne all about their ways of getting around and how we can identify appropriate routes that make those 'missing links'.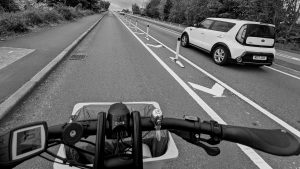 Saturday 18 June 2022 – 9.30amWell… Wirral Council recently completed a fantastic new cycle route on Fender Lane. We want to say 'thank you' so we're planning a group ride to show them that we mean it.Local riders young and old are welcome to join the fun. Please gather from 9.30am. At 10am we will…
New video from Simon O'Brien
A new up-to-date cycle map is now available for Knowsley to help you plan safe cycling routes throughout the borough https://orlo.uk/PgTIP
Don't want to miss a story?
Sign up to our newsletter today